Greetings all,

Cinematic Conversations

You can find this week's Cinematic Conversations Spelling the Dream on Netflix. It's an excellent documentary that mixes the thrill of spelling bee competition with the examination of why Indian Americans disproportionally win. We will be joined by Sam Rega, the director of the film, and the director of the DFW South Asian Film Festival, Jitin Hingorani, who will moderate the discussion at 7:30 PM on Wednesday.

Commentary
As many of you have heard, Warner Brothers announced they will be dropping their films this year on HBO MAX and in theaters on the same day. To many of us in the film world, this was both expected and saddening. I love going to see a film in the theater, but I'm not going to do this for a while. As much as I love going to The Texas Theatre, the Angelika, the Alamo, the Magnolia, and the SMGs, I am literally not dying to go there. While the vaccine is on the way, it will take a while, and I fear there will be too many Americans who will refuse to get vaccinated. So, what will happen?

I will write a longer think piece about this later, but my thinking is that theater that provides a cinematic cultural experience will do well. When you go to The Texas Theatre, the Angelika, the Alamos, and to a lesser extent, the Magnolia, the context of the experience is special. It is both the selection of films that usually show there and the space itself that makes people who love film feel connected. I believe that these theaters will not just survive, but thrive. Their model might change, but anyplace that makes you feel good about being there should survive into whatever this post-Covid world will become. It is, of course, clear that the streaming universe will just keep growing. I'm not upset about this. You can get an excellent, affordable TV and sound system for little money and can have a great experience watching from home. The next question to consider is how do festivals survive and thrive in this new world. Stay tuned. (Hey! I said this would be the short version.)

Recommendations for this week
As you might know, I?ve been working on a series about how Dallas arts organizations have gone digital. The Bruce Wood Dance Company has done a great job adapting; they created several short films on their own, but now, they have created a longer video called  Hope that will only be screened on Monday. (Assuming we get this out on time, go watch it now!)

On Netflix, the long-awaited Mank has dropped. If you love Citizen Kane and have seen it many times, watching this will be a joy. It has many lovely touches and, like Kane, a good script, good performances, good cinematography, and good music. This will not be the classic that Kane is, but it is still a must-see.

The last suggestion is the end of semester screenings for our students in the Cinematic Arts (formally known as film/video) program. It will be a drive-in experience (Thanks to The Texas Theatre) Saturday night starting at 6:30 in Lot 34 on the campus of UTA at Nedderman and UTA Blvd.

Have a great week see you wed night on Zoom and Sat night in your car!!
Best regards,
Bart Weiss
Artistic Director
Film opportunities and events
DEADLINE 2/18:
Applications now open for the 2021 Sundance Institute Creative Producing Lab and Fellowship for feature film and documentary projects. Info/Apply –
Announcing Carolyn Sortor as Glasstire's Virtual Artist-in-Residence
by Glasstire December 5, 2020
Congratulations to Dallas-VideoFest board member artist Carolyn Sortor will be the publication's virtual artist-in-residence from December 2020 to January 2021. Held entirely online, Sortor's virtual residency will consist of two projects, space-time for you (Nothing to see here) and being together, both of which counteract the idea of the internet as a space for overstimulation.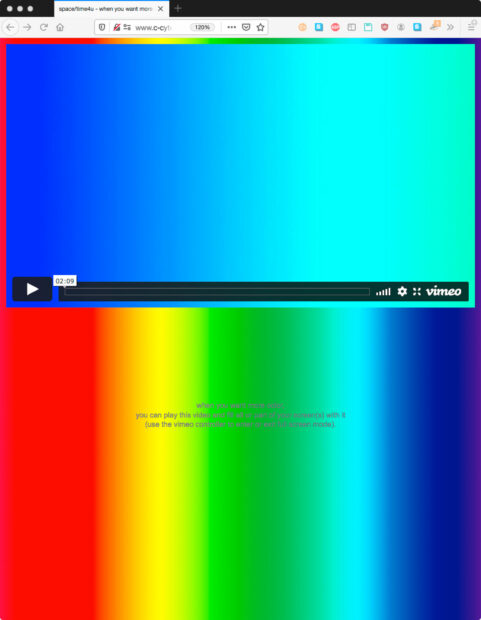 Illustration for space-time for you (Nothing to see here) by Carolyn Sortor
The first project, space-time for you (Nothing to see here), is a collection of webpages designed by Sortor. The five pages use color to give the work's audience whatever they're looking for: light, darkness, bright color, gray space, or complete black. Sortor created the initial page of the project, titled "when you need a quiet space," for her own use, to replace portions of the visual clutter on her computer desktop with a flat, soothing gray.
Additional webpages for the project, each designed to serve a different purpose, will be released weekly, beginning on December 6, 2020. The final two pages: "when you want complete blackness" and "when you want more light," will go live after New Year's. To view space-time for you (Nothing to see here), please go here.
We're Grateful For You.
Thank you for helping us continue our mission! Because of your support, we can continue to do good better by finding innovative ways to bring media by undiscovered and underrepresented artists.  We continue to supporting and advancing the work of Texas artists working in video and the electronic arts. These efforts combined to increase our ability to support local arts organizations, influence policy reform, create engaging educational opportunities, and drive equity for all!

It's in the small acts of generosity that we're going to put the world back together
Video Association of Dallas
 Dallas Texas United States